On-Site Services
We work directly with our customers to meet their specific needs. Let us know what you need and we will do our best to meet your specific business needs.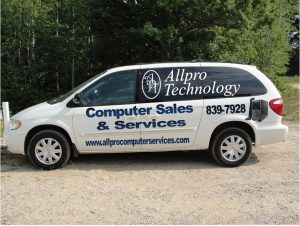 Wide Range of Services
Allpro Technology on-site IT service offers you quick, convenient access to our extensive array of services, knowledge, and experience. Schedule ahead to get the work done when you want it, where you want it. Unforeseen problems? Give us a call and we'll have a technician on-site in no time.
We can lend a helping hand when it's time to upgrade your network, add a server, design and implement a new IT solution, or when things simply go awry. Allpro will be there to guide you through the daunting task of discerning what your needs are, then helping you develop a plan to meet them. We'll walk you through the entire process, assessing your IT, providing appropriate solution options, helping you make informed IT decisions, implementing the solution you choose, and providing maintenance and support afterwards. We'll be at your side, leveraging our knowledge and experience to save you time, frustration, and money. There is no cookie-cutter answer handling IT, so let our experts tailor an IT solution to your individual needs and budget.
Computer Maintenance and Servicing
We can schedule regular on-site maintenance and servicing of your computers and office hardware. Whether your computers need to be blown out to increase performance, or need a scheduled clean-up, our on-site technicians bring the solutions to you.
Emergency Services
No one plans an IT emergency, or makes an appointment for a computer to malfunction. Key hardware and software failures don't wait for business hours, and sometimes neither can you. With Allpro Technology emergency IT service, we can meet your most urgent IT support needs outside of normal business hours. If it just can't wait, don't. Call us for fast and reliable service. We'll get you up and running fast. After hour charges may apply.